Released by Cambodian League for the Promotion and Defense of Human Rights (LICADHO)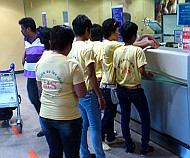 Enlarge this picture
Women recruited by Top Manpower agency were still sent to Malaysia two days after Prime Minister Hun Sen signed an order suspending the sending of Cambodian migrant workers to Malaysia
October 17, 2011 - Cambodian recruitment agencies continued to send domestic workers to Malaysia on Monday morning, despite the Prime Minister's written order on Saturday imposing a complete ban on the practice.
LICADHO monitors at Pochentong Airport observed at least 25 Cambodian maids checking in for an Air Asia flight AK 273 to Kuala Lumpur on the morning of October 17, 2011. The maids were identifiable by their short haircuts and shirts, which were emblazoned with the name of their recruitment agency. LICADHO monitors also confirmed the women's destination by speaking to recruitment agency staff who accompanied the women.
The maids were from two separate agencies: 18 from IIS Co., Ltd., and seven from Top Manpower. The head of the latter company is also the chairman of the Association of Cambodian Recruitment Agencies (ACRA), a coalition of prominent labor export firms. ACRA's Web site states that the group "has a strong commitment to ... social responsibility and sustainability of oversea employment professional in Cambodia" and also seeks to "promote a safe migration for Cambodians ... going to work abroad [sic]."
"While we applaud the Prime Minister's public announcement of the ban on Friday, it seems that some recruitment agencies think that it doesn't apply to them," said LICADHO Director Naly Pilorge. "The ban needs to be properly enforced. The order is clear: Sending Cambodian maids to Malaysia is prohibited, period."
A staff member from Top Manpower claimed that the women who departed on Monday were exempt from the ban because they signed contracts for employment before the ban was signed. The same staff member said that recruits from his company who were currently "in training"would also be exempt from the ban, because they too had already signed contracts.
"It is clear that these agencies have no intention of complying with the ban at this moment," said LICADHO Director Naly Pilorge. "They plan to empty out their recruitment centers and ensure returns on their 'investments.' Once again these women are being treated like chattel."
LICADHO believes that the women who are currently in recruitment centers should be sent back to their homes, not to Malaysia. The ban was ostensibly enacted because the Cambodian government no longer considered Malaysia to be a safe destination for its citizens. The fact that they already signed contracts doesn't make the destination any safer. The recruitment agencies' "pre-existing contract" argument is flawed, and runs contrary to the spirit of the ban.
"The burden of this ban should be placed on the companies' shoulders, not on poor women who need to be protected from being sent to an abusive environment," added LICADHO Deputy Director Ham Sunrith.
LICADHO calls upon the authorities to properly and fully enforce the Prime Minister's order, without exception. Most critically, the immigration police should be put on alert, so that easily identifiable groups of agency recruits are not allowed to leave the country.
"A ban is a ban,"said Director Naly Pilorge."Not a single Cambodian citizen should be sent to Malaysia until proper safeguards are in place to protect labor migrants, and until the Cambodian Government lifts the ban. "
For more information, please contact:
• LICADHO Director Naly Pilorge, 012 803 650
• LICADHO Supervisor Am Sam Ath, 012 327 770
Download full statement (PDF;English)
មើលសេចក្តីថ្លែងការណ៍ជាភាសាខ្មែរ (PDF;Khmer)