Source from LICADHO
October Mass Protest: Day 3
Welcome to
LICADHO Live Stream
. We will be live streaming news as-it-happens during a three-day rally by the Cambodian National Rescue Party (CNRP) planned for October 23-25 in Phnom Penh. This is CNRP's second multi-day protest, following the July 2013 national elections which election monitors criticized as
marred with widespread fraud and irregularities
. CNRP has rejected the results and is calling for an independent probe.
Live Information Stream
SUCCESSFUL DELIVERY OF NINE PETITIONS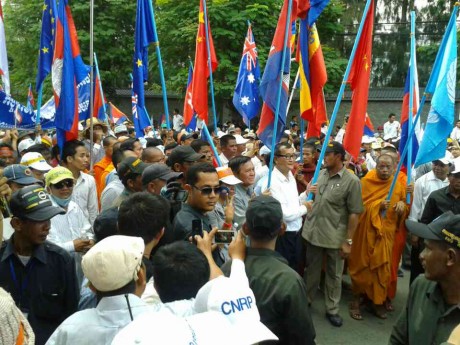 Today, the CNRP successfully delivered its five final petitions:
Over the past two days, the CNRP also delivered petitions to the UN Human Rights office and the British, French and US embassies.
Liam Cochrane, a Melbourne-based journalist reporting on Asia & the Pacific for the Australian Broadcasting Corporation (ABC), tweets updates on the Australian Embassy's position.
CNRP leaders Sam Rainsy and Kem Sokha have just taken the stage at Freedom Park.
From Voice of Democracy (VOD): Sam Rainsy asks to publicly broadcast any post-protest dialogue between him and Prime Minister Hun Sen.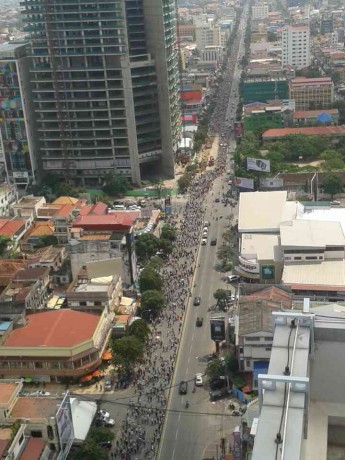 Tens of thousands of supporters continue to stream down Monivong Boulevard as they make their way back to Freedom Park. The front of the march is about to cross Central Market.
"I come here not for my benefit, but for my next generation's benefit," says Sao Pov, a woman from Kompong Siem district, Kompong Cham province. She once served as a housemaid in the royal residence of Prince Norodom Chakrapong. From 1993, she backed the CPP until her husband was shot and killed during the July 1997 troop clashes between CPP and FUNCINPEC. She then re-married and started a new life, bearing three children. However, her second husband died from severe illness and her family was forcibly evicted from their rented apartment at Borei Keila. In 2011, she re-married another man in Kompong Siem district's Tamao commune, Kompong Cham province. Authorities continue to threaten her because of her pro-CNRP stance.
To join the CNRP mass protest, Sao Pov embarked on a three-week journey by foot from her home in Kampong Cham to Phnom Penh. She traveled with her young family: her two sons, aged 10 and 13, and daughter, aged 3. She left with only 7,000 riel in her pocket, a bag of rice, cooking utensils, and a blanket. Along the way, she earned money for food by selling recyclable materials found on the road. She tried to hitchhike for rides, but no one would pick her up since she didn't have money.
After 23 days of walking, Sao Pov and her family arrived in Phnom Penh. They celebrated by day and slept by night in Freedom Park. Last night though, her two sons continued to collect empty bottles to earn money for their trip home.
Mouen Tola, Head of the Labor Program at Community Legal Education Center (CLEC), also shares a video of Sao Pov speaking about her experiences.
Following the acceptance of the petition by the Chinese embassy, the 20,000+ CNRP supporters are now walking back down Monivong Boulevard, returning to Freedom Park. All petitions have now been successfully delivered and accepted by the eight embassies and the UN Human Rights office.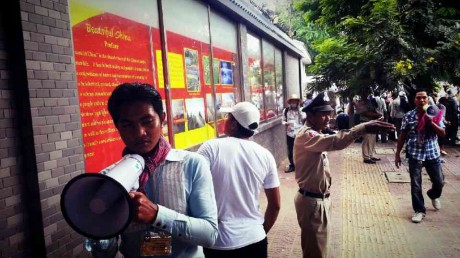 Sam Rainsy, Kem Sokha, and the marchers have just arrived at the Chinese embassy. Supporters are still streaming down Mao Tse Tung Boulevard.
There are estimates of 20,000 supporters en route to the Chinese embassy. Journalist Robert Carmichael reminds us that there is a growing crowd waiting for them at Freedom Park.
Sam Rainsy and Kem Sokha have just re-grouped with their large mass of supporters and are heading west on Mao Tse Tung Boulevard towards the Chinese embassy.