October Mass Protest: Day 2
Welcome to
LICADHO Live Stream
. We will be live streaming news as-it-happens during a three-day rally by the Cambodian National Rescue Party (CNRP) planned for October 23-25 in Phnom Penh. This is CNRP's second multi-day protest, following the July 2013 national elections which election monitors criticized as
marred with widespread fraud and irregularities
. CNRP has rejected the results and is calling for an independent probe.
Live Information Stream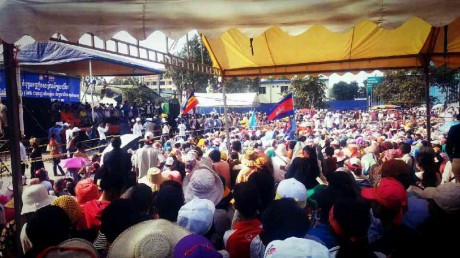 While people wait Sam Rainsy and Kem Sokha's to return to Freedom Park, people relax under the shade of tents and listen to speeches and songs.
Tola Moeun, Head of the Labor Program at Community Legal Education Center (CLEC), shares this video of people dancing in the Park to a Khmer Surin song. This song is popular with all generations of Cambodians, especially those from the countryside. It is called "Peak Aoy Men Bel Khoeun Dos," which roughly means, "You always wear the same shirt, never changing."
Journalist Robert Carmichael takes the time to speak to protesters and find out their motivations:
INTERNATIONAL CALLS FOR PROPER ELECTION IRREGULARITIES INVESTIGATION
Following the July national elections, members of the international community have called for an investigation into election irregularities. The United States of America
said
:
We call for a transparent and full investigation of all credible reports of irregularities. We urge all parties and their supporters to continue to act in an orderly and peaceful manner in the post-election period.
Amid reports of irregularities, the United Nations encourages the competent authorities to adjudicate complaints fairly and transparently, with the ultimate aim of ensuring the accurate determination of, and respect for, the will of the Cambodian people.
With morning petition deliveries successfully completed, protesters return to Freedom Park. There are no pre-scheduled events for the afternoon.
DAY 1 COVERAGE FROM THE TWO MAIN LOCAL ENGLISH PAPERS
Prior to the march, observers estimated that up to 20,000 demonstrators flooded into a festival-like Freedom Park yesterday morning, after countless trucks carrying in jubilant protesters arrived from throughout the country.
The flags of Australia, the US, the UK, Japan, Indonesia and other signatories to the 1991 Paris Peace Agreements fluttered throughout the crowd, reminding onlookers that the purpose of the protest was to call on the international community to pressure the government to abide by the spirit of those accords.
The Cambodia Daily
recounts brief tension
following the delivery of the petition at the UN Human Rights office:
On the way back to Freedom Park, Mr. Rainsy and Mr. Sokha briefly detoured toward a set of light red-and-white barricades set up on Sihanouk Boulevard aimed at preventing marchers from making their way off Street 51 and toward Independence Monument and Prime Minister Hun Sen's house.
Clasping their hands together above their heads in a gesture that has become a symbol of the opposition's unity since the merging of the Sam Rainsy Party and Hu­man Rights Party in July 2012, Mr. Rainsy and Mr. Sokha smiled as dozens of police in riot gear milled behind them.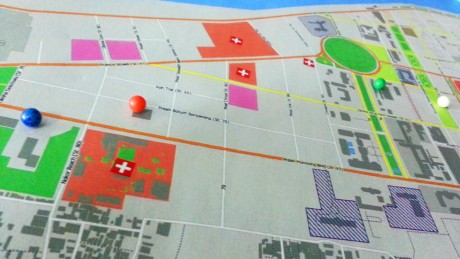 Marchers have just left the French embassy (blue) after successfully delivering their petition. They are currently moving towards the British embassy (red). Around 11 am, they will continue to the US embassy (green) before returning to Freedom Park (white).
Check out these articles and broadcasts from Khmer radio programs:
RFI Khmer: CNRP prepares to march to three embassies this morning
RFA Khmer: CNRP faces obstacles in collecting thumbprints
VOA Khmer: Tens of Thousands Join First Day of Mass Protest
OVERVIEW OF KHMER PRESS
Here are the headlines that Phnom Penh readers are seeing in today's Khmer press:
Kampuchea Thmey Daily: Sam Rainsy claimed that the objectives of both parties are getting closer. (crowd estimate: 10,000)
Koh Santepheap Daily: Authorities strengthened security: CNRP protest begins by marching to UN Human Rights office to deliver petition. (crowd estimate: thousands)
Rasmey Kampuchea: Sam Rainsy agreed with Ministry of Interior to avoid violence during the protest; Municipality tells citizens to be careful with property and along the CNRP marching route. (no crowd estimate)
Nokor Thom Daily: Protest for your own benefit or for the justice of the people? (crowd estimate: less than 20,000)
Phnom Penh Post Khmer: CNRP delivers petition to UN calling for help. (crowd estimate: thousands)
Moneaksekar Khmer: The non-violent mass protest to demand justice is the biggest in Khmer history over the past 20 years. (crowd estimate: over 100,000)
Nokor Wat News Daily and Deum Ampil news did not cover the CNRP protest.