October Mass Protest: Day 1
Welcome to
LICADHO Live Stream
. We will be live streaming news as-it-happens during a three-day rally by the Cambodian National Rescue Party (CNRP) planned for October 23-25 in Phnom Penh. This is CNRP's second multi-day protest, following the July 2013 national elections which election monitors criticized as
marred with widespread fraud and irregularities
. CNRP has rejected the results and is calling for an independent probe.
Live Information Stream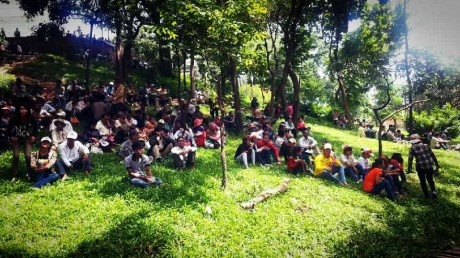 As the crowd approaches its peak, a constant flow of vans have brought in more participants from the provinces, many of whom eat under the shade at Wat Phnom. An estimated 15,000 citizens have come to the rally so far.
CNRP petition to the UN and Paris Peace Accords signatories
The CNRP petition that will be delivered this afternoon states:
We are the Cambodian people have seen that:
the National Assembly opening meeting on September 23, 2013, consisted of only one political party (CPP) in attendance. Given the serious irregularities in the July election, the CNRP boycotted joining the National Assembly.
according to the Cambodian Constitution, the 5th mandate National Assembly is considered unconstitutional as it was elected from one a single-party.
the 5th mandate National Assembly and government is therefore illegitimate
Cambodia is moving towards a communist regime, contrary to the Paris Peace Accords.
We would like to submit this petition, with thumbprint signatures below, to the UN Secretary and all Paris Peace Accords signatories to help us resolve this issue and ask the current leader to obey the treaty.
Updates on checkpoints as CNRP supporters stream into Phnom Penh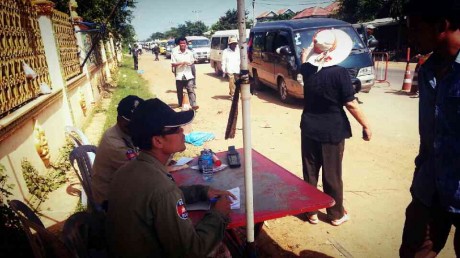 LICADHO field monitors reported a few temporary blocks at the following checkpoints this morning. So far, reports indicate that all supporters have been allowed to continue on their way into the city. Some checkpoints are examining driver's licenses and noting down vehicle license plate numbers.
National Road #1 at Wat Kampong Phnom, Leu Dek district, Kandal province: trucks stopped
National Road #2 at Takhmao district, Kandal province: no road blocks/tents near Kandal Provincial Hall, or Kbal Thnal Sky Bridge, but there are plain-clothed police and small team of military police standing near CNRP head office in Sangkat Chak Angrei Kron. In Prek Ho commune, police are checking vehicles.
National Road #3 at Prek Dong village, Bati district, Takeo province: trucks stopped
National Road # 4 in Tra Pang Kong commune, Somrong Tong district, Kampong Speu province: around 13 trucks were stopped and driver's licenses checked.
National Road #4 in Bek Chan commune, Angsnol district, Kandal province: police attempted to search around 70 trucks for drugs. When people threatened to block NR 4, police relented and allowed CNRP supporters through.
National Road #5 at Wat Tep Raingsey in Ponhea Lu district, Kandal province: groups of military police are stationed along the road and police are taking note of all license plates passing through.
National Road #21 in front of Wat Chhouk Leap, Saang district: police blocked around 30 CNRP trucks of supporters, but opened the way after negotiations.
Local radio station Voice of Democracy (VOD) reports that Sam Rainsy revealed in the press conference that he and Minister of Interior Sar Kheng agreed to avoid violence during the three-day protest. The CNRP President added that the rally plans to uphold the principles of peaceful protest.
CNRP Press Conference Highlights
CNRP President Sam Rainsy and Deputy President Kem Sokha just concluded their press conference and announced the objectives of the rally as:
to seek justice for Cambodians
to call for dialogue between government, local and international NGOs, and the UN to address current election irregularities and find solutions to ensure future free and fair elections
to demand election reform, as urged by the UN, EU, National Democratic Institute (NDI), and COMFREL. They further called for the resignation of the NEC leader before continuing talks on election reform.
At 2 pm, Sam Rainsy and Kem Sokha will move to Freedom Park to address the crowds before leading them to deliver petitions to the UN Office of the High Commissioner for Human Rights.
Freedom Park is looking vibrant. LICADHO monitors estimate at least 8,000 people are already in Freedom Park and surrounding areas. The crowd is growing as trucks of supporters from the provinces continue to flow in.
Journalists cover the start of Day 1
Reuters journalist Prak Chan Thul tweets the lack of roadblocks:
The Cambodia Daily Editor-in-Chief Kevin Doyle notes the build-up of supporters:
Magnum photojournalist John Vink shows journalists at the ready for the CNRP press conference: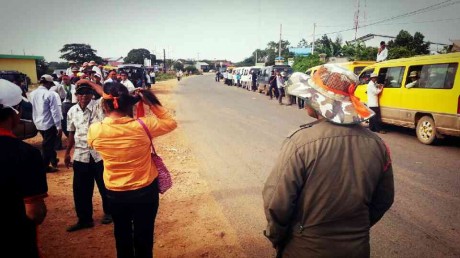 Already, around 300 people have gathered at the rally point in Thnal Kaeng area on National Road #6. People are still arriving so we expect this number to grow rapidly.
Provincial CNRP Rally Points
This morning, CNRP supporters have been gathering in three provinces at the following rally points to organize their drive into the capital.
Kampong Speu: Phsar Thnal Tateang on National Road #4
Kampong Chhnang: Phsar Trach on National Road #5
Kampong Cham: Thnal Kaeng area on National Road #6
First day begins with prayer and song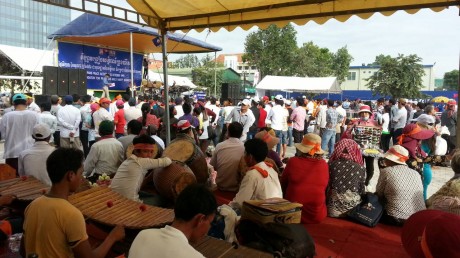 Day 1 begins with approximately 500 people gathered at Freedom Park. People woke up to singing and music and began the morning with a religious ceremony. The CNRP security team reminded people to exercise caution, remain peaceful, and report any suspicious activity.
The highlights of today's schedule include a 9:00 am press conference at CNRP's head office at Chak Angre Leu commune, Meanchey district, and the 3:00 pm petition delivery walk from Freedom Park to the UN Office of the High Commissioner for Human Rights.
Day 1 Opens to Unobstructed City Roads
LICADHO field teams report an absence of barbwire-fenced road blocks on main arteries of the city. Such road block had been the cause of repeated instances of violence during the first mass protest on September 15-17.
Magnum photojournalist John Vink has the same observation:
Freedom Park's main stage is fully constructed and new projector screens installed for viewing by the mass crowds tomorrow.
Tonight, an estimated 200 eager CNRP supporters have gathered in the Park. The CNRP supporters, many of which are families with women, children, and elderly relatives, traveled to Phnom Penh from Kandal, Prey Veng, Kampong Cham, Kampong Speu, Svay Rieng, and Battambang. Many will stay in the park -- some sleeping on mats while family members stay awake to keep guard. Others will return to guesthouses or homes in Phnom Penh for the night.
CNRP leader Sam Rainsy announces press conference tomorrow 9 am.
Elected CNRP MP Yim Sovann of Phnom Penh reveals CNRP three-day schedule.
Security checkpoints are up on national roads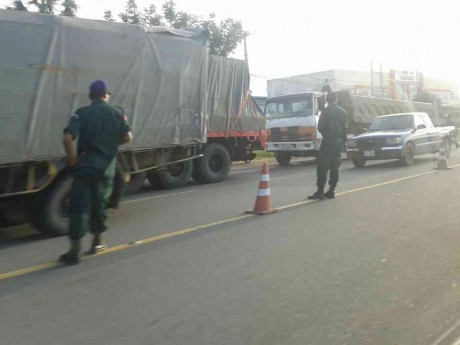 So far, LICADHO monitors can confirm that authorities are setting up security checkpoints in the following areas:
National Road #1 at Wat Chompa, Khnal Kos commune, Kean Svay district, Kandal province
National Road #2 at Takhmao town, Kandal province
National Road #3 at Wat Sleng, Protralang commune, Dangkaor district, Phnom Penh
National Road #4 in Bek Chan commune, Ang Snoul district, Kandal province
National Road #5 at Wat Tep Raingsey in Ponhea Lu district, Kandal province
National Road #6 in Ba Keang commune, Russei Keo district, Phnom Penh
At the moment, cars are being checked at some security points, but none have been blocked.
US and Australian Embassies Issue Security Messages for their Citizens
The
US embassy
and
Australian embassy
have advised their citizens to exercise a high degree of caution around Phnom Penh during the planned demonstrations.
The U.S. Embassy encourages you to avoid large crowds and immediately leave any area where crowds are gathering. You should remain alert to local security developments by monitoring local news reports, be vigilant regarding your personal security and preparedness, be aware of your surroundings, and plan your activities accordingly.
MoI letter to Phnom Penh Municipality on CNRP protest
In a Ministry of Interior (MoI) posting on its website yesterday, the MoI announced the following:
MoI permits CNRP to protest peacefully in Freedom Park from October 23-25, from 6:00 am-6:00 pm. There is no permission to stay at night in the Park or other areas.
MoI permits a maximum of 10,000 people to assemble in the Park.
It is CNRP's responsibility to manage the protest responsibly for peaceful order, security, and protection of human life and private and public property.
If CNRP wishes to send its petition to embassies or other institutions in advance, CNRP officials must cooperate with the Phnom Penh Municipality to limit the number of people in delivering the petitions.
Preparations begin for tomorrow's rally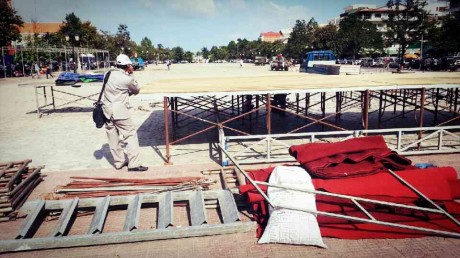 CNRP are currently building the main stage and peripheral tents in preparation for tomorrow's mass protest. A little over 100 supporters are on the sides of the park.
Welcome to LICADHO Live Stream
On the eve of the second Cambodian National Rescue Party (CNRP) days-long rally calling for an investigation into election irregularities, we are launching a new information sharing platform: the LICADHO Live Stream.
The Live Stream, accessible via http://licadho-cambodia.org/stream/, is going on air now and will offer updates as-they-happen throughout the duration of the CNRP rally. The updates consist of first-hand reporting gathered by our LICADHO field teams as well as filtered information from reliable sources - such as journalists and NGO partners.
This service is meant to offer a trusted data hub for people wanting to keep in touch with the unfolding rally.